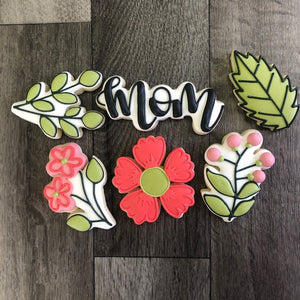 The Sugar Shoppe
Mother's Day Cookie Class (ONLINE)
Regular price
$12.00
$0.00
This class includes a downloadable PDF with extensive instructions as well as a 60 minute Vimeo video that will take you through a step by step process to create this Mother's Day set of cookies. The techniques taught in this video are piping, flooding, creating dimension using layering and drying time and writing. 

***The download for both the PDF file will be emailed to you shortly after checkout, it will contain the Vimeo Video download link at the bottom of the page***
*The information in this package belongs to The Sugar Shoppe and is intended for personal use only. It is not to be shared or reproduced without the expressed written consent of The Sugar Shoppe.
*Due to this class being a download no refunds will be issued