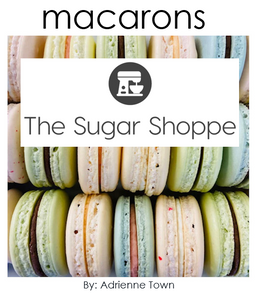 The Sugar Shoppe
Macarons - Mini eBook
Regular price
$10.00
$0.00
Learn the art of making delicious macarons with this mini eBook written by Adrienne Town of The Sugar Shoppe.
This eBook includes recipes for both the macarons as well as different filling options,  comprehensive step by step instructions on how to make macarons, a troubleshooting section and a short video that shows the ideal consistencies for the different stages of macaron making all while walking you through the entire process. 
Read, watch, learn and master the art of these delightful little cookies!
*please note this is digital content and an email will be sent to you with a link that brings you to the PDF upon completing your purchase. This is not a hard copy book.
*all information in this eBook is the property of The Sugar Shoppe and is not to be shared, reproduced or sold without express written consent from The Sugar Shoppe.
---
More from this collection